By Mark Whitley
Hi all,
I wanted to take a moment to share with you an important milestone in the disability rights movement and for Easterseals: the passage of the American with Disabilities Act (ADA). We have some
terrific opportunities for you to get involved to celebrate this achievement.
A little background first: On July 26, 1990, 30 years ago this upcoming Sunday, President George H.W. Bush signed the ADA into law, protecting the rights of people with disabilities and helping shape our nation in ways that benefit all Americans.  Easterseals was also a leading supporter of the ADA and actively lobbied in Washington D.C. to ensure its passage. Learn more about Easterseals and the ADA on our national website.
Disability activist Judy Heumann, who advocated for the ADA, was there when the act was signed.  In this video she remembers how powerful that experience was. 
JOIN US AS WE CELEBRATE THE ADA & FURTHER THE DISABILITY RIGHTS MOVEMENT!
The ADA30 Lead On – Celebration of Disability Arts, Culture & Pride on Thursday, July 23, from 4:00pm – 6:15pm is a virtual event in honor of the 30th Anniversary of the Americans with Disabilities Act.  The event will be headlined by Tony-Award winning actress Ali Stroker, emcee Danny Woodburn, comedian Maysoon Zayid, singer/songwriter Emmanuel Kelly and Kinetic Dance's Alice Sheppard. Easterseals Disability Film Challenge founder and ESSC board member Nic Novicki will also be making a special appearance.  The event is a celebration of disability arts and culture, guaranteed to entertain, empower and educate audiences across the nation and around the world.  The event is free and will stream live on Facebook, YouTube and elsewhere, but you do need to register here in advance.
Thanks to the ADA Initiative – Easterseals is telling the story of the ADA with social media posts. You can help give visibility to the impact ADA has had in the lives of Americans in the past 30 years by joining in the conversation and sharing our social media posts with your friends and family. Here's how: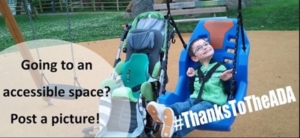 #ThanksToTheADA – The ADA changed the world around us – accessible business and public spaces are a visual reminder of the ADA's impact. On June 26, take a photo of something in your community that was improved by the ADA and share it on social media with the hashtag #ThanksToTheADA. This brief video has more ideas on using this hashtag.
Facebook – Help spread the word to your Facebook friends: like and share this post and look for new posts in the coming days.
LinkedIn – This post is another opportunity to spread the word.
Want to do more? Follow @ADANational on Twitter for #ThanksToTheADA highlights and more ADA resources. Follow, post and link to the Easterseals Southern California channels: Instagram: @eastersealssocal; Facebook: @EastersealsSoCal/ ; Twitter: @EastersealSoCal and LinkedIn: https://www.linkedin.com/company/easterseals-southern-california/
Easterseals, along with the ADA, has made tremendous progress to change the way the world defines and views disability. Let's join together virtually and celebrate those successes on this important milestone.
Happy ADA 30th!
Mark