While many of our service providers have shifted to home-based locations, Easterseals Southern California is still open.
We are proud to share these examples of the new and innovative ways we are providing support for our program participants, their families and communities.
Autism Therapy Services is providing ABA therapy via video conferencing or telehealth. Check out these associates connecting with kids.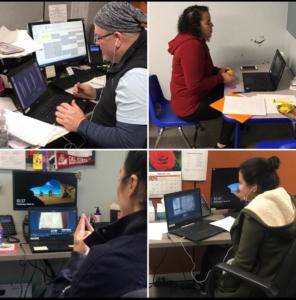 Child Development Services (CDS) is open and support services are continuing.
Last week, associates in San Bernardino County made care packages of toilet paper, tissue, wipes, diapers, and school supplies for families to come and pick up at our centers.
If families weren't able come to the door, associates dropped supplies off at their doorstep.
CDS also continues to supply families with much needed materials.
The associates miss the kids and are calling families each day to see how they are doing and what help they can provide.
Here are associates Claudia Tripp, Carmen Contreras, Maria Avila, Melissa Calleja and Rosa Aragon in San Diego pitching in.
Lluvia Sicairos, Health and Nutrition Coordinator in North San Diego, brought her sewing machine in last week and made masks for staff and families.
Just another way that the CDS associates are using their creative minds to get supplies to our associates and the people we serve!
Living Options associates are doing an incredible job supporting participants in all Easterseals Residential Services homes.
Because homes need to be staffed 24/7 for the safety and well-being of our participants, many Adult Day Services staff have taken on shifts, providing much needed help during this difficult time.
Adult Day Services Life Skills Coaches Peter Caranto and Jennifer Diaz are helping support the Living Options team in Burbank.
At another of our homes in Burbank, participants are settling into their new schedule and keeping busy with daily activities.
WorkFirst / Bob Hope Veterans Support Program
Our Bob Hope Veterans Support Program is needed now more than ever, and the team is busy supporting individuals remotely. They recently assisted Marcus, a previous Easterseals client who served six years as a Supply Logistics Specialist in the United States Marine Corps. With Easterseals' assistance, he landed a position with the US Census 2020, but reached out recently when the current crisis placed a hold on their operations.
The team connected Marcus with community resources that helped him access emergency food assistance and housing. Marcus is working with Easterseals to identify new opportunities of meaningful employment. When they checked in with him on Monday, Marcus shared that he moved into permanent housing after dealing with housing insecurity for nearly a year. Marcus said, "Thank you to the Easterseals Bob Hope Veterans Support Program, you reminded me that despite the recent crisis, I have the resiliency to weather this storm and make it through!"