It seems disability representation in TV and film is finally having its "moment," and we think it is here to stay. While the 80s and 90s featured a few groundbreaking shows starring characters played by people with disabilities – think "Diff'rent Strokes" with Gary Coleman and "Life Goes on" with Chris Burke—TV and film's depiction of people with disabilities has come a long way. In the last decade, we've seen more characters with disabilities authentically represented on screen in productions like "Glee," "Speechless," "The Peanut Butter Falcon," "Cha Cha Real Smooth," and so much more.  
As part of Easterseals SoCal's "Disability in Pop Culture" blog series, we are taking a look at just a few of the many voices who are making waves for disability representation and authentic storytelling in entertainment and beyond. From a documentarian with cerebral palsy to a teenage actor with down syndrome, these are just a few rising stars to watch for in 2023.  
Lauren 'Lolo' Spencer: Entrepreneur, Actor, Model, Influencer, Advocate  
Before diving into the world of acting and modeling, Lauren 'Lolo' Spencer was (and still is) known as a disability lifestyle influencer, thanks to her Youtube channel "Sitting Pretty." On her channel, she creates vlogs on everything from fashion and romance to accessibility and how she doesn't let ALS get in the way of living life to the fullest.  
Lolo's popularity and influence as a Youtuber eventually led to modeling and acting gigs, including her first acting role in "Give Me Liberty," an indie film featured at the 2019 Sundance and Cannes film festivals. Currently, she is starring in her biggest role yet as Jocelyn in the HBO hit series "Sex Lives of College Girls," which was just renewed for season three!  
But Lolo doesn't just live life in front of the camera. In 2022, Lolo founded "Live Solo," a lifestyle brand with the mission of creating a new narrative for people with disabilities. This platform serves as an online resource to empower people with disabilities to live a more independent lifestyle.  
Lolo Spencer has accomplished so much already, but this is just the beginning. We can tell you right now: we're all going to be seeing a lot more of Lolo in the future.  
Reid Davenport: Director, Filmmaker, Documentarian  
As a filmmaker and documentarian, Reid Davenport often spends his days exploring the stories of others, but his most recent project, "I didn't See You There," is a feature film shot entirely from the perspective of his own wheelchair. The film, which received the Directing Award for U.S. Documentary at the 2022 Sundance Film Festival, takes the viewer on a visual journey through Reid's experience living in Oakland, navigating public transportation, and doing every-day tasks.  
Through his unique lens, Reid makes it his mission to expose people—often those without disabilities—to both the struggles and the beauty of life in a wheelchair.  
Several of Reid's other documentaries on disability include "A Cerebral Game," "Wheelchair Diaries," and "Ramped Up." Each provide the viewer greater insight into the realities of being disabled in a world that is not built for them.  
Reid was named to DOC NYC's 2020 "40 Filmmakers Under 40" list in 2020. He was also a 2021 Creative Capital recipient, a 2017 TED Talk Fellow, and has been featured by outlets like NPR, PBS, The Washington Post, MSNBC, and The New York Times.   
Sofia Sanchez: Actor, Model, Influencer, Author, Advocate  
If you haven't heard her name yet, you're going to start hearing it more! Sofia Sanchez is a 14-year-old actor, model, and influencer with down syndrome whose career is starting to really take off.    
Best known for her acting debut in "Switched at Birth" (2015), Sofia is about to be recognized for her upcoming role as a "tribute" named Wovey in the new "Hunger Games: The Ballad of Songbirds & Snakes" film", scheduled for release in theatres November 2023.  
Sofia also uses her platform to share messages of inclusion and belonging. As a disability advocate, she published two Scholastic books about inclusion called "You are Loved" and "You are Enough." These books are being turned into a cartoon called Rocket Park, featuring themes of inclusivity.  
Sofia was the 2022 recipient of the Christopher Reeve Acting Scholarship at the Media Access Awards, an awards show dedicated to celebrating the achievements of people with disabilities both behind and in-front-of the camera.  
We can't wait to see more from Sofia as she continues to break barriers in the entertainment and advocacy world!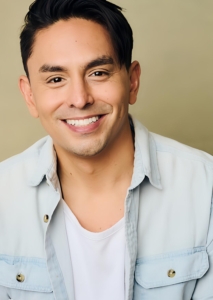 Danny Gomez: Actor, Model, Disability Advocate  
You may know Danny Gomez from his appearance in several Easterseals PSA's, including our Spanish PSA campaign, but Danny is known more broadly as an actor and model who just so happens to use a wheelchair. 
Since 2018, Danny has been active as a model for Target, Facebook and Zappos, while acting in several short films, commercials and television shows, including NBC's hit series "New Amsterdam" and recently CBS's "NCIS: Hawaii." 
Danny often uses his platform to advocate for disability inclusion, especially when it comes to authentic representation in film and television. Every year, Danny participates in the Easterseals Disability Film Challenge, which helps raise awareness for better representation for disabled actors in Hollywood. He also works with various non-profits to advocate for and help people with disabilities, including the Triumph Foundation, ARC Abilities Recovery Center, Angel City Sports, and Easterseals Southern California.  
Over the years, Danny has received multiple awards and acknowledgments, including being named the "Person with Determination" winner during ModelHunt's 2019 international model search. He was also the recipient of the 2020 Christopher Reeve Acting Scholarship at the 2020 Media Access Awards.  
As disability inclusion becomes a more prominent theme in TV and film, Easterseals SoCal looks forward to seeing more from these influencers and artists as they continue to advocate for themselves and for the disability community.  
Stay tuned for more from our "Disability in Pop Culture" blog series, where we explore the latest in disability inclusion and representation in entertainment!