By Laura Ferreiro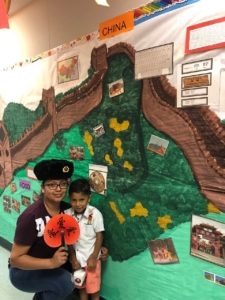 In a colorful and festive celebration of cultures from around the world, the Child Development Centers in the Inland Empire recently held their annual Multicultural Day on April 25.
Each year, the teachers transform their classrooms into different countries with help from the children and their families. The families were also encouraged to create boards with their children that represent their own cultures. Music and food from various cultures were also shared.
"It's amazing to see how creative our staff become transforming their work areas and classrooms into far-off destinations," said Elizabeth Mulligan, CDC Area Director. "They outdo themselves year after year. The children love it and it helps ignite their imagination." 
From an Italian marketplace with a café, pizzeria and flower shop, to a British phone booth and traditional Mexican folk dancing costumes, the children, families, and teachers shared unique aspects of their cultures had a blast decorating their classrooms and learning about various customs.
Participating in fun Multicultural Day activities contributes to children's social and emotional development while providing a beginning lesson about diversity. Children increase their awareness of themselves as distinct from and also related to others.  It also helps them develop an understanding of other people's behaviors, feelings, thoughts, and individual characteristics.
"They enjoy the experience of learning new and different things about the other children they see each day in the classroom and their families, and the parents who participate gain a greater understanding of other cultures as well, so it's a win-win for everyone," Mulligan added.