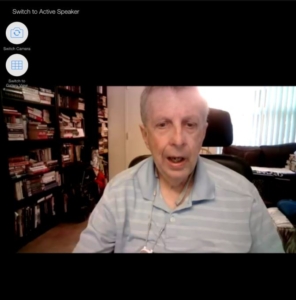 Launched over the summer, the Adult Day Services Poetry Club invites participants and associates to share their creativity every Friday at 11:30 a.m. over Zoom. The club was started by associate and advocate, Howard McBroom, who had been attending a monthly poetry event at Barnes & Noble before the pandemic began.
"When Howard shared his disappointment in the cancelation of the bookstore event, we thought we would create something similar here at Easterseals," says Adult Day Services Program Director Brian.
The club was launched with Easterseals Adult Day Services associates and participants interested in sharing poems, quotes, personal statements, or other creative thoughts to join the weekly meeting. Since its inception on July 17, dozens of participants and associates have attended.
One of the club's notable successes is how it impacted Pricilla, a participant from Lancaster. She first started participating in the club by sharing her poetry. Before long, she began occasionally filling in for Howard, who usually hosts the weekly club meetings. "Pricilla thought she could never facilitate or lead a group," says Brian, "but now she feels wonderful doing both!"
Hope reading this story has made you feel wonderful too!